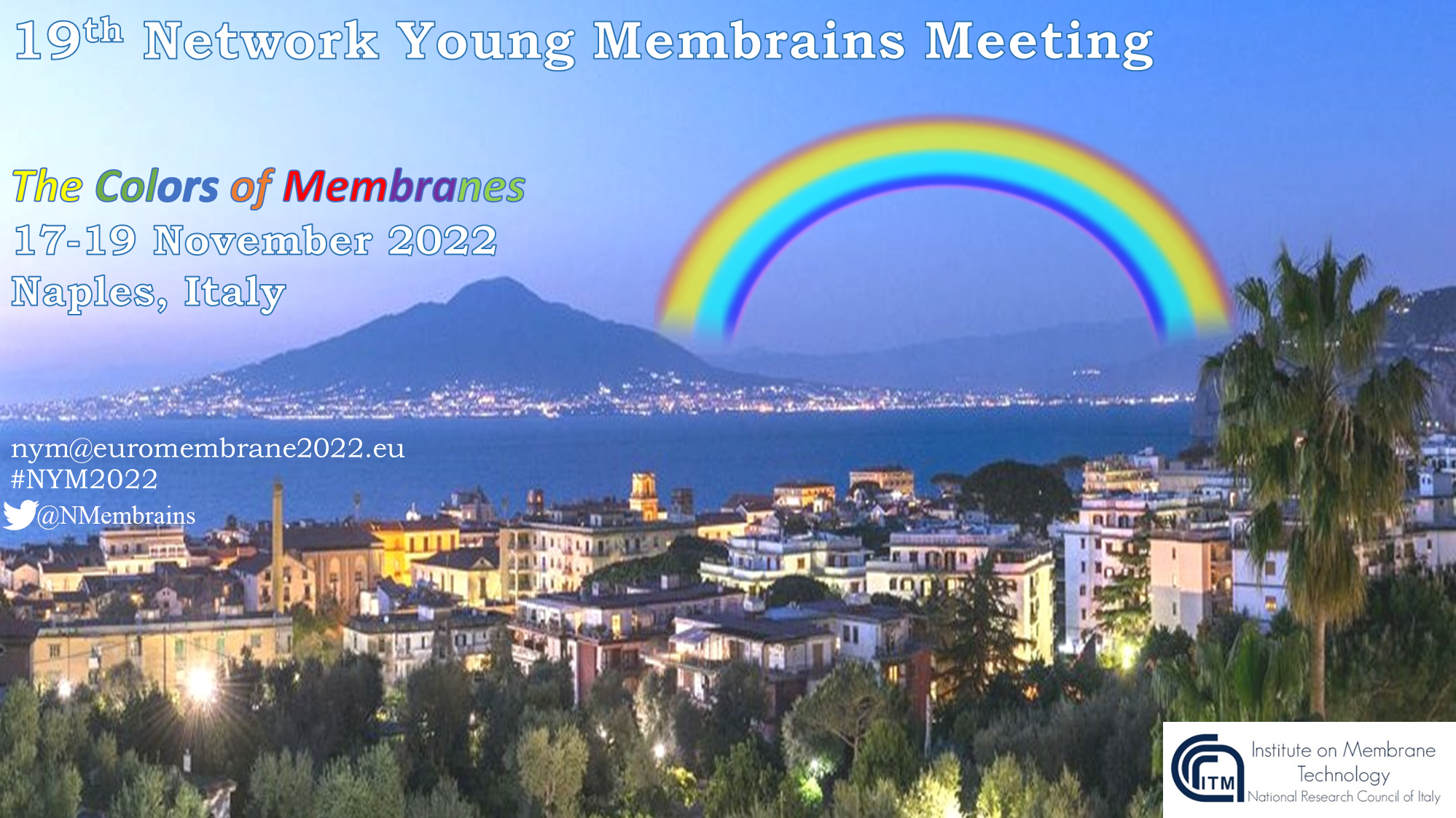 Network

Young

Membrains

Meeting

2022
17 - 19 November, 2022 Naples, Italy
The 19th Network Young Membrains Meeting (NYM 2022) will be held in Naples, the vibrant and picturesque city in the South of Italy. NYM 2022 is organized by the Institute on Membrane Technology of the National Research Council of Italy (CNR-ITM), and will take place on 17-19 November 2022 under the motto "The Colors of Membranes".
The purpose of NYM is connecting the next generation of academics and industrials working in the different areas and applications of membrane science: energy, water and gas treatment, health, membrane preparation, and modelling. The NYM's idea is to stimulate knowledge and skill exchange between the participants, as well as to develop and nurture an international network between future leaders in the field.
The full program of NYM, which includes social events and lectures by leading early career researchers, will focus on membrane technology and its role for the construction of a sustainable world with particular focus on emerging trends in the field. Furthermore, the participation to NYM will ensure the opportunity to get out from academic labs and give a look into applied membrane science and technology, getting in touch with a company operating in the sector.
Follow us on NYM social networks Twitter, Instagram, Facebook and join the Young Membrains community.
This year, NYM 2022 is a partner of Euromembrane 2022, which will take place in Sorrento soon after (20-24 November).
NYM2022 Program: Preliminary program can be downloaded here.
Best Oral Presentation Awards We are delighted to announce that the European Membrane Society is sponsoring four Awards of 250€ each for the best oral presentations during the 19th Network for Young Membrains Meeting.
Registration for NYM 2022 will close on September 30th 2022
Registration Fee
Early (deadline extended to September 7th 2022

)

Late

Regular

290€

340€

Regular + EMS membership

340€

390€
The registration package includes the full meeting program for November 17 - 19, lunches and coffee breaks during the meeting, and the social dinner.
Abstract Submission can be sent to nym@euromembrane2022.eu Download the abstract template HERE. Deadline of submission: extended to September 15th, 2022. In order to know one each other, all the participants will have the opportunity to present their work, thus all the abstract are accepted as oral presentation.
Accommodation and How to get to NYM 2022
TBA
Organizing Committee
Giuseppe
VITOLA
Serena
REGINA
Alessio
FUOCO
Elisa
ESPOSITO
Francesco
GALIANO
Francesca
RUSSO